Well two days ago I picked up a 1980 Bass Tracker III from a "friend of a friend" for a hell of a price $900.....
The boat is in decent condition, has a 40 HP Merc that I know has less than 2 hours on a total engine rebuild (top and bottom end). The interior is ok but is coming out, has a live well that I have not idea how and if it works. Ended up with 2 new tires out of the deal and the bearing buddies for the trailer NIB. And a Bimini top that is in perfect condition aside from the cover.
My master plan.....
Gut the interior and replace....
Rewire the entire boat.....
The Merc will be getting a impeller kit, carb kit, hoses, plugs, fuel pump kit and a waxing along with a hydrofoil....
AlumaBright the hull inside and out then a polish if needed.....
Bow mount trolling motor....
Fish Finder....
Stereo....
Swim Tab????
Trailer, new paint, some welding, winch cable, and new runners along with the bearing buddies.....
Now some questions....
The outboard is a Mercury 40 HP and should be a 1980 the S/N is 5661770. Anyone know what model this would be? Also where would be a good place to get parts as this S/N seems to be a little harder to get parts for (I live no where close to a marine supply so they would have to be shipped)?
Next is the live well this has me stumped.... There is a PVC tee at the bottom both have plugs and it looks as one end (it's about 10" from the bottom of the well) is a "level" for the well and the other end of the tee appears to be the drain. Both of these are plumed into a approx. 1.25" line that exits the transom at the bottom of the boat well below the water level. It also has a PVC elbow right at the top entering the live well with a ball valve on it and is plumed into a pump that gets it's supply of lake water right next to the drain on the bottom of the transom again well under the water line.
Now I see the drain and the fill level an the fill but can this setup aerate? Would I run the pump with the plug out of the "level" PVC pipe that is about 10" of the bottom of the well? My thinking since it was plumbed into the lower tansom that is would not drain but instead possibly fill with lake water or at best not drain at all.......
Next set of questions...
Where to get marine carpet??? Looking for something cheap but in the same hand right, so who has the best deals and service online?
Next I need a windshield, anyone have one laying around they are looking to get rid of?
Also looking for a T.M. bow mount 42" shaft (or around there) foot controlled, 12 volts, 40#'s or more. Anyone have one of these laying around they'd be willing to ship?
Next is a fish finder.... Looking for something not to fancy but decent that will read temp. and speed that is also complete. Again with the wishing anyone have one they'd be willing to ship?
With all of that out of the was here she is.....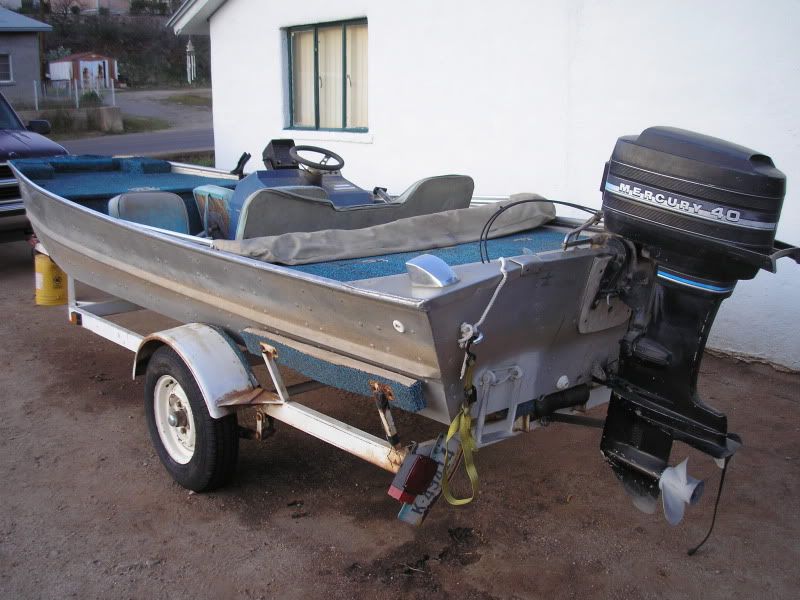 Let me know what you guys think and hopefully you won't run me off after I get done asking a million questions as all of this is new to me (I used to be a jet boat guy)...
Thanks,
Jerry