I did a little work on the boat saturday. I wanted to re-mount the rear battery to make it easier to access. Just slide it back so I can pick straight up through the rear hatch.
The edge of the front deck where you step down onto the floor had already begin bowing. Originally there was space under the front deck on the floor of the boat. So the Plywood was spanning about 1/2 width of the boat unsupported. See picture. Not good for my heavy ass.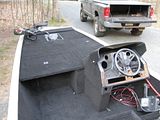 To remedy this I could have braced it with aluminum angle, but then I would have had to look at it. So I moved the wall of the hatch out just shy of the end of the deck. I also added a brace under the deck running parallel with the gunnel. It is rock solid now, and I have more interior compartment space.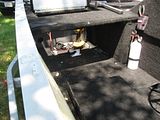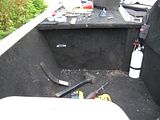 I also have something else up my sleeve, or should I say, in my garage.
Working on the boat again later today.